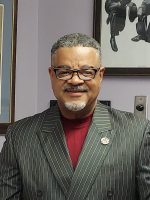 Pastor Terrence K. Porter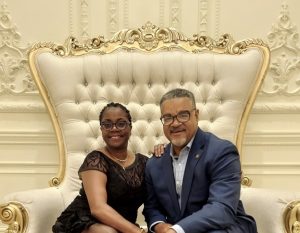 Pastor Porter was installed as the 14th Pastor of the historic Pilgrim Baptist Church in May of 2003. Prior to Pilgrim, he served as the Assistant to the Pastor at Fountain Baptist Church under the mentorship of Rev. Dr. J. Michael Sanders.

Since his installation he has guided the congregation through a period of transformation which has led to unprecedented spiritual and numeric growth. With over 40 active ministries/auxiliaries designed with; "People In Mind and the Community at Heart," Pilgrim has become a place of; "Praise, Prayer and Preparation." With an emphasize on Christ-Centered Worship and Praise, as well as relevant Bible Teaching, he continues to empower the congregation to recognize the privileges and responsibilities of being children of God. Biblical models and principles are central to his leadership style and administration. With the affirmation of faith and the foundation set by his predecessors, he has led Pilgrim to utilize its facilities and properties to galvanize community relationships in order to extend Pilgrim's Christian Witness in the community of Red Bank & beyond. As a result, PBC added a third worship experience on Sunday's for the Hispanic speaking community. Philosophically, he believes the church should never compromise its message of love and hope for all. To that end, he has promoted a community ideology that "we can achieve more in partnership – rather than in isolation." Pilgrim has embraced his community empowerment and mission vision by contributing over $205,000.00 since 2003 to; mission, benevolence, crisis intervention and student scholarship efforts, both domestically and abroad.

Since 2007 he has also served as the President of the Red Bank Affordable Housing Corporation. RBAHC recently completed the construction & sale of 36 Townhouses in the city of Red Bank. The development known as "Cedar Crossing" is an $8 million project which has provided affordable homeownership to families from the shore region. He has also led the community of Red Bank and other regional churches and agencies to respond to the needs of individuals (families) affected and/or displaced by the Super Storm Sandy. The coordination and housing of national work-teams has become a model for church based partnerships throughout the country. This effort has also led to the establishment of the Community Collaborative Initiative, that galvanizes public, private and religious institutions to address the needs of the underserved and marginalized in Monmouth and Ocean Counties. In 2015 he was appointed to serve as Chaplin for the Monmouth County Police Chiefs Association and 2016, he developed the Shore Region Interfaith Prayer Breakfast which is held at Brookdale CC.

Pastor Porter has also has been committed to the spreading of the gospel of Jesus Christ throughout the world. As an International Missions Instructor for the Lott Carey Missionary Convention, he gives instruction to missionaries from around the world at its annual convention. He has led Medical Mission/Mission Work Teams to rural areas of the West Indies. Pastor Porter has also led a community wide mobilization of resources to aid those affected by the National Disasters in the Gulf Coast Region of 2005 and is currently leading the community in providing financial support to Haiti in an effort to build a Medical Clinic and Church facility in Quanaminthe, Haiti, in partnership with other local agencies. The Haiti Mission effort also includes the "Grains of Grace" food program and educational support to students in Haiti.

He is a graduate of Montclair State University and has received his Masters Degree from the New Brunswick Theological Seminary. It is his desire to continue his education as a doctrinal student focusing on; "The Tradition of Pastoral Care and Counseling in the African American Context." He has received numerous awards and recognitions for his service. However, he is most proud of his inductions into the Mahwah High School and Montclair State University Athletic Halls of Fame. He cherishes his athletic career, because it was as a professional athlete with the Chicago Bears that he was led to a personal relationship with Jesus Christ.

A gifted preacher & revivalist, Pastor Porter also served as an instructor of; New Testament Theology for The Institute for Christian Discipleship (Somerset), Palmer Theological Seminary – School of Christian Ministry, The Lott Carey Baptist Foreign Missionary Convention – Mission Studies Program, and the General Baptist Convention of NJ Congress of Christian Ed. He also established the Academy of Christian Education (Red Bank) and has partnered with Pillar College to bring an accredited Christ-Centered academic program to the shore region.

He is native of McDowell County West Virginia and currently resides in the city of Scotch Plains (NJ) with his wife Wilma. They have three children; Ayesha (University of Phoenix, resides in San Diego, CA); Nehemiah James (Rowan University, resides in Philadelphia, Pa) and Naomi Olivia (Sophmore, Montclair University).

Pastor passions are: his Faith, his Family & his Church Fellowship. He enjoys chores around the house, playing golf and evening rides on his Roadglide (Harley).

Pastor Porter's ambition is to; "Bring Glory to the name of Jesus Christ, by rendering service to others" and he affirms the truth of scripture that "We can do all things through Jesus Christ which strengthens us………Philippians 4:13